Content API Overview
The GoodBarber Content API allows you to access the content synchronized form the different sources that you have plugged in your pages.

The Content API is built on a REST architecture. On each source, it's possible to call different methods, each meeting a specific need.

The Content API requests are secured and can be called only from the app itself (or by a plugin in the app). To facilitate your tests, you can use an API Console in your backend.

The auth management in the Content API is handled automatically by the request method of the GoodBarber Plugin API.
General structure of Content API requests
The Content API calls URLs always follow this structure:

http://[myapp].goodbarber.com/apps/[endpoint]/[page_id]/[arguments...]

You can find the list of available sources for your app in your GoodBarber backend.

The detailed list of endpoints is described in this article : Endpoints List.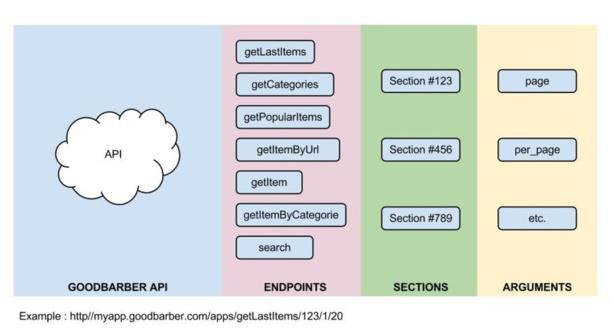 General structure of Content API responses
The responses of the Content API are always formatted as a JSON dictionary, and follow a general structure.

The responses contain an array of items resulting of the request, and several other informations.

The structure of the Content API responses is detailed in this article : Return structures & values.
Item type and inherited types
The data returned by the Content API is always formatted as JSON dictionaries respecting the Item format.

Each entry (article, video, tweet, photo, event, etc.) is an Item, having several additional keys specific to its type.

The Item format specifications and the additional keys for each type are described in this article : Items types documentation.